The January R.E.A.L. Inset day was hosted virtually again this year to reduce Covid transmission and the theme of the day for the education services staff was 'R.E.A.L. Gets Reading.'
The day was organised by the Heads of Quality of Education, Michelle Farr and Chris Newman, and featured a good range of pre-recorded sessions and live Zoom presentations.
Included in the schedule was input from a guest speaker, Debbie Hepplewhite from Phonics International, and an introduction to R.E.A.L.'s new Lexia Reading app.
Kay Carter, Head of Safeguarding and Standards said: "It was disappointing we were unable to get together in person again this year, but Michelle and Chris put together a great day which was highly appreciated by all of our wonderful staff, and highlighted the focus of R.E.A.L. on all things reading this academic year."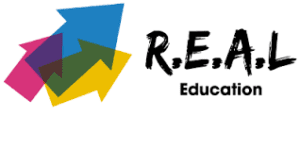 Nikki Purcell has raised an amazing £700 for Rainbows Hospice for Children and Young People, by walking 5km a day every day for 50 weeks during 2021.
Nikki, Head of Schools at R.E.A.L. Education, raises money for charity most years and, after turning 50 in December 2020, felt inspired for a new challenge.
Nikki said: "I signed up for a virtual 5km sponsored walk in January last year but I felt it wasn't challenging enough. I completed the initial 5km in one morning, so I thought why not set a target of walking 5km every day for 50 weeks of 2021. I also wanted to do something for myself from a wellbeing perspective".
During the year Nikki walked around 1750km (that's 1087 miles!) and somehow managed to fit this in alongside working and normal life duties. "I often split the 5km across the day, so 2km before work, 1km during the day and 2km after work," Nikki said. "But this wasn't always possible, so the days when I'd get home from work and still had a large portion of the walk to do were the hardest ones."
Knowing she was raising money for a good cause served as motivation for Nikki to complete each walk, as well as popping in her headphones to listen to music or being joined by family members. "My Mum, aunties, husband and step-children have all joined me on walks, but most recently my grandson joined me – which was great!" Nikki said.
Nikki tried to vary her walks and these ranged from walking in her own house on bad weather days, to on the beach in the summer: "I really enjoyed the walks I did when I was away on holiday; I went to Bath, Weston-super-Mare and Bristol. I also enjoyed walking around Wollaton Park to take in their Christmas light display in December."
Nikki's target was to raise £600 for charity, which she surpassed with a grand total of £700. Nikki said: "I'm so pleased I achieved more than my target. I know things are very difficult for many people at the moment and their generosity has been incredible."
If you'd like to donate to this great cause, there's still time for you to do this by clicking this link here.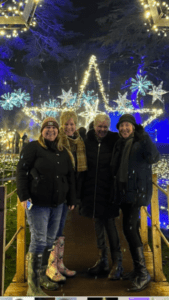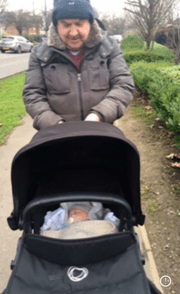 Staff across all R.E.A.L. sites took part in Christmas Jumper Day on Friday 10th December, and they really did go all out getting into the festive spirit – with some taking it further than just a jumper!
Duncan Allen, STEM Coordinator didn't make just a 'Lidl' bit of effort, but a whole lot of effort in his matching Christmas jumper, socks and trainers. 
Duncan took the top spot and was crowned 'Staff Winner', but there were some close runners up as staff had baubles for earrings and wreaths for hats.
The total money raised across R.E.A.L. sites is to be confirmed, but in the meantime, take a look at all the proud, smiling faces (you can still see the raised cheeks behind the masks). A brilliant effort and fun day for all staff and learners to wrap up a challenging, but inspiring 2021.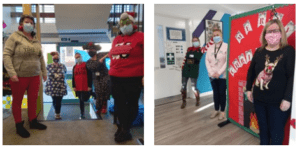 "Children should be allowed to express themselves in all ways possible" is the main aim of 'LearnToLearn' from LEGO education.
Amanda Lowe, Learning Manager at R.E.A.L. has been using and adapting this model with her learners and it resulted in one learner building a replica of R.E.A.L's Ilkeston Hub, as well as a castle and vending machine.
This is part of 'Connect, Construct, Contemplate and Continue' Amanda said: "I know that LEGO and Minecraft are personal interests of this learner and he was really excited to be coming to school at R.E.A.L. but slightly anxious about travelling to different hubs.  I used his interest in LEGO on this occasion but often use other appropriate media; drawing, clay, playdough, computing, discussing etc. to personalise engagement with our learners."
Real life situations can then be applied to the item that has been built. Amanda said: "To help the learner deal with the anxiety of travelling to new places, he was able to talk about it using the models he'd built and then also build solutions and discuss how he and his peers would benefit from the upgraded hub.
"I adapted this model slightly and used my own experience of teaching children and young people to modify it so that it is tailored to suit the individual."
Connect

phase awakens students' curiosity and the desire to learn.

Construct

phase encourages the student to tackle the challenge by building something functional or meaningful to him/her.

Contemplate

phase involves reflection and dialogue, with the teacher and peers, about what everyone has learned from their experience.

Continue

phase gives students opportunities to apply their newly-acquired knowledge to new challenges, as well as take ownership of their learning.
To find out more about the different provisions on offer and arrange a visit, please email: enquiries@real-education.org.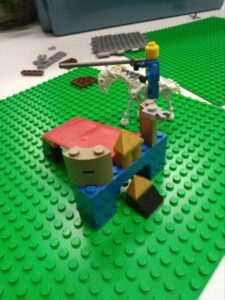 R.E.A.L. Independent School Hinckley raised an amazing grand total of £126.37 for Children in Need last month.
Learners designed t-shirts which were auctioned off amongst staff and learners, as well as holding a cake and biscuit sale, with everything selling out.
Dawn Besa, Receptionist said: "The learners and their tutors put so much hard work and effort into designing their t-shirts and they had a fabulous time doing it.
"I and my fellow colleagues are stunned at the amount we raised for a small hub like Hinckley. The auction itself was very competitive. We all enjoyed it and the staff and learners made it a fantastic event."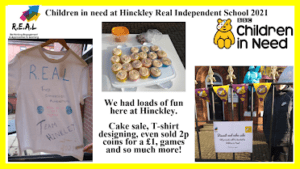 When you think about Christmas, the copious amount of food on offer is up there in the top list of things to enjoy over the festive season. 
Learners and staff across all R.E.A.L. sites got together to make a banquet worth of food goodies to sell at the R.E.A.L. Christmas market.
Ellen Longmate, Learning Manager said: "The market was full of lovely sweet treats and craft items that the learners had made from all school sites."
There were mince pies, Christmas cake puddings, jam crumble slices, wax melts and decorations on sale.
Ellen added: "We had learners from Blidworth, City Hub, Ilkeston and Woodhouse Road selling gifts. It was really well received."
Christmas music was playing and hot chocolate and marshmallows were served by the kitchen staff. 
Ellen said: "The learners loved it. A few of them definitely have that sales streak in them, as we all left with no money!"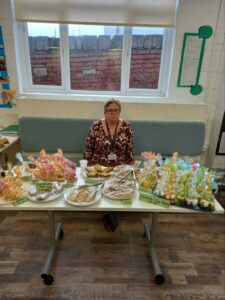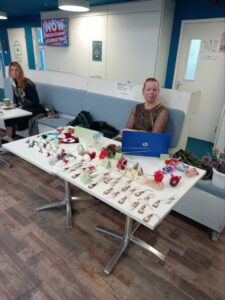 R.E.A.L. Education's newest site, in Hinckley, only opened its doors in 2020, but just over a year later has now received its first Ofsted report.
Ofsted completed their inspection in September 2021, concluding Hinckley's first overall rating as 'good', and to be a school with a 'calm and purposeful atmosphere.'
Adrian O'Malley, Director of Education said: "We're really pleased Ofsted have recognised the good work that we do with the children on a day to day basis. For us to get such a positive report when the school has only been open for just over a year is fantastic and a testament to the hard work of everyone involved."
Hinckley offers full-time placements for children with complex needs, with a wide range of alternative provision courses for pupils who have additional learning needs or social, emotional and mental health difficulties. The report states 'pupils appreciate that their work is adjusted to meet their needs and to enable them to learn well.'
Throughout the visit inspectors met with the headteacher, senior and subject leaders, directors and governors as well as pupils. They did a deep dive into subjects such as English, Science, PE and PSHE and discussed school life with groups of pupils.
The report said pupils are 'very proud to be part of this school'. They also 'feel happy' and 'safe' in school and 'they appreciate the support and guidance given.'
Nikki Purcell, Head of Schools said: "To hear the comments that learners made to inspectors about our school was heartwarming. They inspire us to continue working hard to ensure they achieve great things and have a positive future."
It found the staff have 'high aspirations' and 'high expectations' of what the pupils, including those with SEND, can achieve. That staff 'tap into pupils' interests, such as learning to play tennis, squash and golf in PE' and 'support them to either gain appropriate qualifications, or prepare them for their next steps in education or training.'
Ofsted said the directors, governors and leaders are 'driven by a clear moral purpose' stating 'they're focused on the needs of each pupil and are aspirational for everyone's future.' They acknowledged R.E.A.L.'s values of 'trust, innovation and achievement' and said these values are built into all aspects of Hinckley's work.
Nikki added: "I'm really pleased with our inspection result. It was great to showcase the brilliant work that our learners and staff have completed since we opened last year."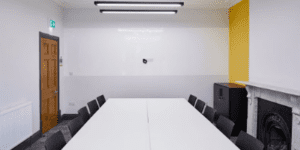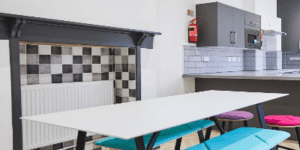 Staff and learners respectfully created lots of reflective artwork in honour of Remembrance Day, to remember those who have died in wars around the world.
Tutor, Vicky Lane, was proud of the various artwork produced at R.E.A.L's Nanpantan site. She said: "There's been lots of hard work at Nanpantan over the last few weeks, a fantastic poem by Learner J, 3D poppies completed by a very talented Learner A, and hands to acknowledge the past and present of those serving."
Learner Zac from R.E.A.L's Ilkeston site created this poignant acrostic poem:
Remember the people died
Everyone risked their life
Medals were given out to soldiers
Everyone wears poppies/pins
Marching over the hill
Blasting guns stop
Enemies retreating
Returning from the battlefield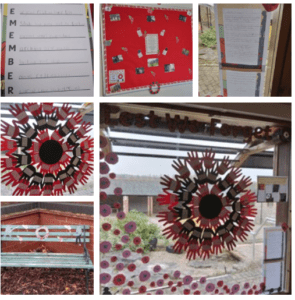 Meerkats and Plant Hire machinery; they're not things you'd often hear together but tutor Claire Wallett has given learners the chance to experience both these things on trips that enhance our curriculum at R.E.A.L. Education.
Claire and learner McKenzie visit Willow Tree Farm each week and recently got the amazing chance to meet the meerkats. 
Claire said: "There were around 5 or 6, they had a little snoop at first and once they trusted us they ran and climbed all over us. They tried to get in my pockets, snuggled in my hood and sat on McKenzie's head."
McKenzie really liked the cheeky character of meerkats – they had to trust and get to know people before they would engage and socialise with their handlers. 
Claire also visited a Plant Hire site with learner A, where he learned about different machinery and how it works. Claire said: "It was a social skills activity, as Learner A struggles with socialising. It worked a treat as machinery is his passion, the men that work there were hit with many questions."
By tapping into our learners interests – we build relationships and motivate young people to become excited about learning new things and widening their experiences.
To find out more about the different provisions on offer and arrange a visit, please email: enquiries@real-education.org.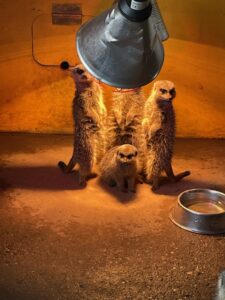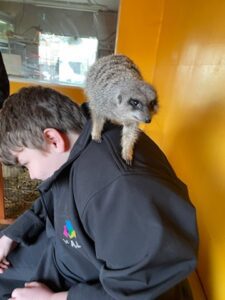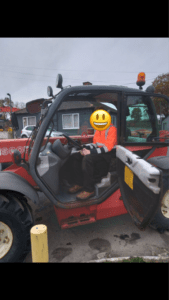 Based in the quaint Old Library building in Mansfield, learners can develop skills in music technology in industry-standard facilities.
They offer a Level 1 and 2 Advanced Diploma in Music Technology, a hands-on, industry focused course for young people interested in music and media studies.
James Mills, Tutor, said: "We also have in-house work experience opportunities, such as; recording professional artists, supporting running a live theatre, lighting and sound at a live gig, and much more."
In September 2022, the Old Library will offer music, drama and art too. James said: "It'll be formed under our new name, 'Real Creative Arts'.
"We're really proud to offer a state of the art facility with a nurturing environment ethos."
To find out more about the different provisions on offer and arrange a visit, please email: enquiries@real-education.org.