R.E.A.L Independent School Ilkeston has received its first ever Ofsted visit and achieved a brilliant overall rating of 'Good'.
The visit took place in July this year and recognised the varied experiences the learners enjoy such as "celebrating Pride week, trips to the theatre, canoeing, and meeting Titus, the dinosaur."
Nikki Purcell, Head of Schools said: "I'm delighted with the result we achieved. This was the third of our school inspections in just over a year and yet again our staff and learners showcased the work they do really well."
It was noted that RIS Ilkeston "cares about each pupil as an individual" and the "relationships between staff and learners are extremely positive."
Nikki said: "It was wonderful that the inspectors recognised how positive our relationships are with learners and their parents or carers."
Ilkeston has helped "develop learners' self-confidence and resilience, making them prepared for their next steps and gaining qualifications which will help them be successful in their lives."
Nikki said: "I was lucky enough to hear parent and carer and learner feedback to inspectors during the inspection, which was at times overwhelming. Especially when one learner spoke about how his improved reading skills have impacted on his life.
I know that we make such a difference to our learners' lives through creative re-engagement , which, as one of the parents reported, makes education a positive experience for them."
The feedback from staff was also positive saying they're proud to be part of the school and "leaders are supportive and considerate of their well-being and workload."
Nikki said: "Reassuringly, the areas that inspectors identified for development were those we'd already identified and incorporated in our school improvement plan.
We'll continue to work hard and further improve the quality of education we offer the learners who are in our care."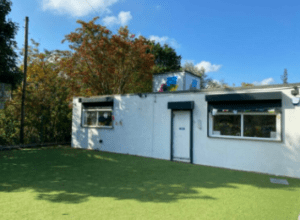 Please give a warm hello to R.E.A.L's new Head of Safeguarding and Standards, Tracey Keeling.
Tracey has a highly successful background of working in the education and social care sectors, from secondary school, pupil referral unit and college, to Nottingham City Council. Tracey has experience of being a practitioner, provider, commissioner and leader.
Tracey said: "I have an unwavering passion for wanting to make a real difference to the life chances of children and young people.
I'm a strong advocate for young people, especially those on the fringes of society who are at risk of falling through the system and failing to achieve their full potential."
Outside of work, Tracey can be found doing yoga: "I love yoga, it's relaxing – I can now do a head-stand and a bridge."
When Tracey's not learning new yoga poses, you may catch her on the TV. Tracey said: "Whilst on a march to free Nelson Mandela, I actually ended up on national TV!" What a great claim to fame!
Tracey said: "I'm also a mum to two gorgeous young people, and I love shopping."
Tracey will be providing a high level of safeguarding and compliance support to R.E.A.L: "I'm really excited to join and looking forward to working with everyone and our learners."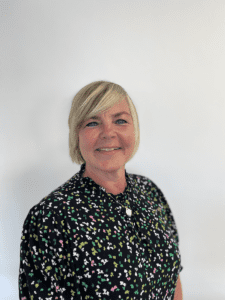 R.E.A.L. staff and learners across all sites paid their respects to Queen Elizabeth II, as she sadly passed away this month.
RIS Blidworth learners visited Nottingham City Hall to lay flowers and sign the book of condolences. Andy Richmond, Learning Manager said: "The learners' tributes were so heartfelt and touching. I'm so proud of all the learners who made the trip."
RIS Mansfield, Woodhouse Road and more Blidworth learners also went to Mansfield Civic Centre to write in the book of condolences and lay flowers too.
At all of our sites, staff and students have taken time to remember, reflect and give thanks for the Queen's life and dedicated service.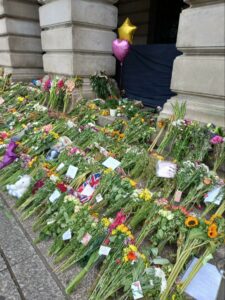 Doors? They don't tend to be the most exciting part of a building, yet the doors at Sandhills, R.E.A.L. received a magical makeover in aid of World Book Day. 
Lions, crocodiles, witches and wizards were just some of the marvellous creatures featured, as staff and learners had carefully decorated five doors in total, all inspired by children's books.
Teaching Assistant, Stephenie Walters said: "There was a competition running across R.E.A.L. to design a 'book door' for World Book Day. We were only meant to create one, but we enjoyed it so much we ended up making five in total, we went a little overboard!" 
Stephenie and Learning Manager, Claire Colley, chose The Chronicles of Narnia, Harry Potter, The Hunger Games and the books of Roald Dahl as four of the door designs. Each is decorated with quotes from the books, as well as characters ranging from Dobby the House Elf to the BFG.  
Stephenie said: "The doors took weeks to be completed as there was so much detail that went into each one. It involved a lot of cutting and laminating, especially for the fifth door, which contained a whole bookshelf of over 60 books! We crafted each book spine individually and learners titled them with their favourite book. 
"The doors have inspired the learners to engage in lots of interesting conversations already and we hope it inspires them to read more."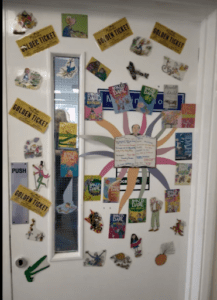 Name and role? Victoria – HR Manager, I've been at R.E.A.L. for two months as I started in January 2022.
What's a typical day like for you? Our typical day depends on the needs of the school and currently mainly consists of recruitment activities, managing absences (mainly Covid management) and answering day to day queries. My typical day at the minute is working with my team to support the current activity whilst learning more about R.E.A.L, the great work that everyone does and how my department can support this.
The best part of your job? All of the people that I get to work with, there is a really friendly and supportive atmosphere here which I have felt since the very first day. Also, I love being able to see other people really enjoy their own jobs and achieve both professional and personal goals.
If you had an extra hour in the day? If I was lucky enough to have an extra hour a day it would be spent doing something outdoors that is not gardening – I am yet to successfully grow a plant from a seed without it going horribly wrong or someone taking it off my hands to rescue.
If you like the sound of Victoria's ever changing and exciting role, take a look at our current vacancies as we are looking for a special person to work in Victoria's team. Our current vacancies are featured in the article below.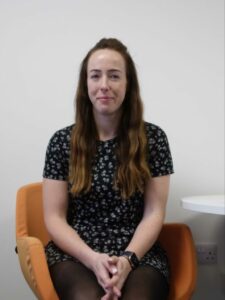 Name and role? Harry – HR Advisor, I've been at R.E.A.L. since September 2020. 
What's a typical day like for you? No day in HR is ever the same! My typical day involves wellness monitoring, supporting recruitment and responding to general HR enquiries. I also make sure to take some time to get around the office to check in with fellow employees, to see how they're doing and if there's anything I can do to assist.
The best part of your job? Definitely the people I work with. We have a great team and I take great pleasure in bringing more people into the business and seeing it grow. 
If you had an extra hour in the day? There are a few things I would do, I'd workout, play football or have an extra hour in bed.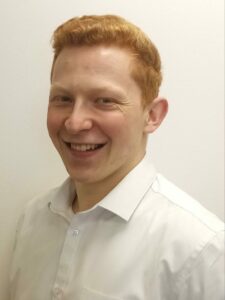 Name and role?  Leanne – HR Advisor, I've been here since September 2020.
What's a typical day like for you? Every day is different in HR.  We are really busy but the variety makes it exciting – you never know what each day will bring. I usually start my day checking emails, and responding to queries. I also deal with absence monitoring, flexible working requests, as well as various administration tasks ranging from issuing offer letters and contracts, to reference letters.
The best part of your job? The people I work with, we have a great team and I love establishing relationships, and being able to help others. At the end of the day our door is always open and nothing is ever too much trouble  
If you had an extra hour in the day? I'd spend it with my family.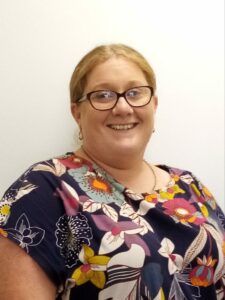 We believe every child has a future... This vision lies at the heart of all we do here at R.E.A.L. Do you share our passion to enrich our learners' curriculum and prepare them for an exciting and fulfilling onward career path? Are you looking for a creative and empowering employer? If the answer is yes… then we might just have what you are looking for! 
A very rewarding and challenging role has become available for an experienced and person-centred educator to join the R.E.A.L. Education family. 
R.E.A.L. Education provides both independent special schools placements and market leading alternative education. We are seeking someone who has extensive knowledge and experience of operating at a management level in a SEND environment to join us as our Head of Schools. The successful candidate will be responsible for leading and managing staff whilst ensuring that all of our learners have access to high quality teaching and learning through an appropriate curriculum. 
The successful candidate will be responsible for 4 schools across Nottinghamshire, Derbyshire and Leicestershire and therefore travel will be a requirement of the post holder. There will be some opportunity for hybrid working but the majority of your working week will be based at one of our 4 schools.
We believe that fostering good relationships with learners is key to successful intervention. If this is something you believe in, then please contact us at applications@real-education.org for an application pack, to arrange a visit or for further information.
Closing Date for Applications: Wednesday 23 March 2022, 12pm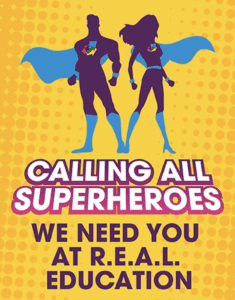 Staff at R.E.A.L. have jumped straight in with ideas to help raise money to support the people of Ukraine.
Claire Bishop, Deputy Headteacher of R.E.A.L. Ilkeston, kick-started the fundraising project in Ilkeston; Claire said: "As a school we would like to support the families of Ukraine who're going through this difficult time."
Collections for donations of toiletries, tinned foods etc are in place, as well as organising a book raffle and bingo event as a way to raise money. Claire said: "All proceeds will be split between the Ukrainian centre and specific Canine Rescue centres of Poland and Serbia"
Ilze Ziverte, Specialist Teaching Assistant at R.E.A.L., is also doing her bit to help raise money for The British Red Cross appeal for Ukraine.
Ilze runs the craft group at Woodhouse Road, Mansfield and is asking for help to crochet blue and yellow flowers to sell to raise funds. Please email ilze.ziverte@real-education.org Ilze for further details.
You can help this worthwhile cause by donating any spare blue and yellow wool – it would be very gratefully received at any of our learning hubs across Nottinghamshire, Derbyshire or Leicestershire.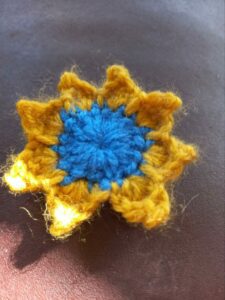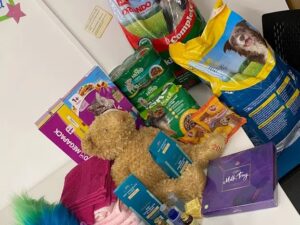 Learners at the Ilkeston Hub celebrated the Chinese New Year by creating their own fantastic Chinese dragon costume.
The learners watched a video about the Chinese celebrations and found out what their zodiac signs were, before suggesting their own ideas of how to make the costume.
Jo Brown, Teaching Assistant said: "They made the dragon out of a box and recycled scraps of paper we had in the art room."
The learners marched around the classroom and outside in the garden, some under the costume and others banging pan lids together, inspired by dragon parades at Chinese New Year.
Jo added: "It was really great fun, we even encouraged them to bang their pan lids even louder!"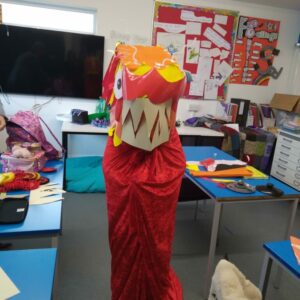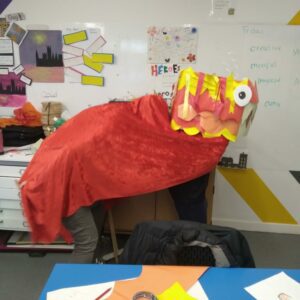 Two R.E.A.L. learners have successfully become published poets after their poems were chosen to be included in an anthology.
Learners from R.E.A.L's Nanpantan site, entered the Young Writers competition last term after Jane Owers, English Teacher introduced it to them. Jane said: "The students were very proud and excited about the prospect of being published poets, but to be honest, I was probably more proud than anyone!
I knew they'd done really super jobs composing their poems and they took the competition very seriously. They spent a number of sessions planning and tweaking their work."
The theme of the poems was "Empowered"; both learners found this title really inspiring and the stimulus resulted in two completely different poems.
Jane said: "A student based his poem on young soldiers going to war and another student based a poem on her own experiences growing up, with friends and peers. They were both very powerful and gritty."
Both students have received certificates congratulating them on their fantastic achievements while they await to receive the physical copy of the anthology.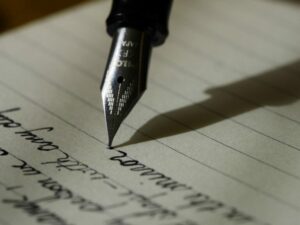 Learners have been very busy at Hinckley and are working hard to create various engaging displays about space and science. 
The produced displays are outstanding and are not only visually appealing but contain lots of factual information.
Dawn Besa, Receptionist said: "Our learners had so much fun with Kerry, our Site Lead Teacher; it was great to see them so involved and enjoying the sessions.
The space display is amazing and we're so proud of our learners and the amount of work they put into it."
The space display is a huge piece of work containing information about the whole of the solar system, from planets to black holes to even Elon Musk's Tesla Roadster.
Margret Maramba, Deputy Head of Hinckley said: "It's brilliant to see learners using different props; the pipe cleaners used for the mitosis display was an amazing idea.
This is what teaching is all about, making topics fun whilst learning something new."